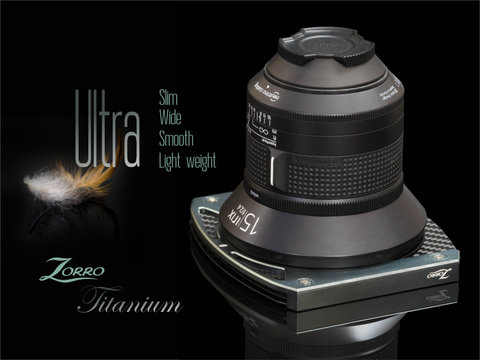 Filter Holder for Irix 15mm f/2.4
Bombo is the first in the wold company that production 100mm filter's holder system for Irix 15mm f/2.4 with 2 slots of filters, we start selling from 2017 January, The first system name Laser100SE had been updrage to some later version with higher quality, better matterial so that the Bombo holder system had excelent review and used by professional photographer in more than 38 countries
Filter Holder for Irix 15mm f/2.4
Support 2x100mm filters 360 rotating NOT vignetting
---
Bombo is the first in the wold company that production 100mm filter's holder system for Irix 15mm f/2.4 with 2 slots of filters, we start selling from 2017 January, The first system name Laser100SE had been updrage to some later version with higher quality, better matterial so that the Bombo holder system had excelent review and used by professional photographer in more than 38 countries
Completely eliminate light leakage
Ultra-wide angle
Fast accessing
Protection cover
High class materials
1. Completely eliminate light leakage
Special construction for completely eliminate light leakage when shooting long exposure, there are 2 anti light leaks layers for each slot, one of them made by carbon fiber for easy access and smooth moving
2. Ultra-wide angle
Zorro100 have ultra-wide angle like Laser100SE holder that popular using by professional photographers. Zorro holder support ultra wide lens thread to 95mm like Irix 15mm f/2.4, Milvus 15mm f/2.8, medium and large format lens system, fisheyes Zenita 16mm f/2.8 and Voigtlander 12mm, 15mm, 21mm lens system
3. Fast accessing
One step slide in on front lens without any screw and free 180o rotating, can install Zorro100 by one hand very fast and easy. Filter slots constructed same as Laser100SE, design with carbon fiber make filter moving more smoothly
4. Protection cover
Eliminate ND filters break when contact with other objects, Zorro100 cover made by stainless steel
5. High class materials
All Zorro100 parts make by High class and long-life materials:
Body made by carbon fiber for slim, strong construction. light weight and smooth filter moving
Filter slot made by Poly-carbon with high flexibility helps strong keeping but smooth moving
Cover made by stainless steel for strong construction and better filter protection
Choose your option here
| | |
| --- | --- |
| Laser100SE2 System | Zorro System |
| | |
ĐÁNH GIÁ/REVIEWS
Very well made- Douglas Ritchie - 05/07/2018 03:40:15 AM
Very well made and works perfectly with the Irix 15mm
Solidly built and easy to install/remove- Dana Crandell - 05/07/2018 02:44:21 AM
As one of the first in the US to get my hands on the Irix 15mm f/2.4 Blackstone Lens for Canon, I can tell you that it's difficult to find filters that don't cause vignetting with this lens, much less a filter holder that extends outside the perimeter of the lens. The field of view is just too wide for most attachments. That being the case, I was pleasantly surprised with the performance of the Zorro100. It lived up to its claim.

The holder is lightweight, solidly built and easy to install/remove – just slide it over the adapter ring. Filters slide easily and I had no issues with scratching, even though I used a plastic filter. You can leave the holder on and replace the lens cap. The Irix hood isn't going to go on, of course, but hey, you can use your 100mm "Big Stopper", so it's worth it.

I'm very pleased with this holder and it's now a permanent item in my necessities bag!